Flower Delivery Sterling Heights MI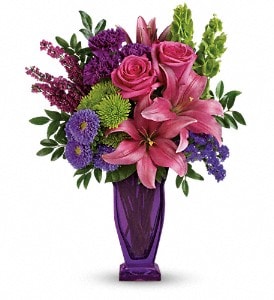 About Sterling Heights Mi
Sterling Heights is a city in Macomb County of the U.S. state of Michigan, and one of Detroit's core suburbs. As of the 2010 census, the city had a total population of 129,699.[6] It is the second largest suburb in Metro Detroit, and the fourth largest city in Michigan. Sterling Heights was incorporated as a city in 1968. It was until the 1950s an agricultural area largely devoted to growing rhubarb and other crops sold in Detroit.[12] Prior to 1968 Sterling Heights was known as Sterling Township. It had from 1836 until 1838 been known as Jefferson Township.
Yelp Events Sterling Heights Mi
Fun Facts about Sterling Heights
The August 2006 issue of Money Magazine listed Sterling Heights as No. 19 on its list of the 90 "Best Small Cities" to live in.
Sterling Heights was ranked the sixth safest city in the U.S. with a population between 100,000-499,999, according to Morgan Quitno's 2006 analysis of crime rates.
Lakeside Mall opened in Sterling Heights in 1976.
Florist in Sterling Heights Mi
Conner Park Florist is a full service flower shop with two locations delivering daily to Sterling Heights, Mi. Our original store located on Conner Ave. in Detroit is just a little south, and our flagship store in St. Clair Shores is located just a few miles southeast of Sterling Heights. We have been family owned and operated for over 65 years and service all of Sterling Heights with fresh, same day flower deliveries. All of our floral arrangements are hand-made at one of our two locations and delivered by our own fleet of delivery trucks. We guarantee all of our deliveries with 100% satisfaction and will never outsource your Sterling Heights flower delivery to another flower shop.
Flower Delivery to all Sterling Heights Hospitals and Funeral Homes
36900 Schoenherr Road
Sterling Heights, Mi 48312
Baqnasco & Calcaterra Funeral Home
13650 E. Mile Road
Sterling Heights, Mi 48312
E J Mandziuk and Son Funeral Home
3801 18 Mile Rd
Sterling Heights, Mi 48026
Adranga Obarzanek Funeral Home
33250 Ryan Road
Sterling Heights, Mi 48310
3500 15 Mile Road
Sterling Heights, Mi 48310